PFT RITMO Powercoat PLASTERING MACHINE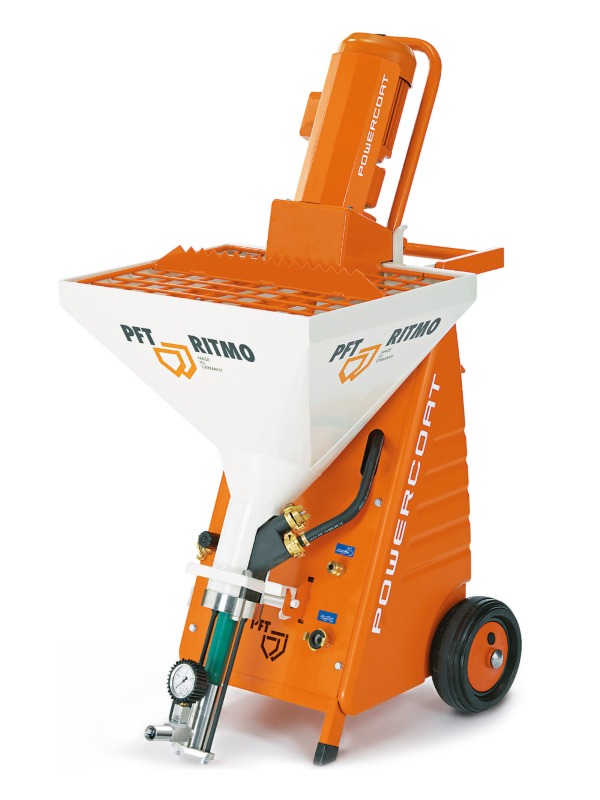 PFT Ritmo Powercoat plastering Machine application of smoothing cement that revolutionises interior work
The proven mixing pump with the revolutionary agitator made of stainless steel/rubber which, for the first time, enables the machine-crushing of lumps to thereby produce a homogenous, sprayable thin-wall plaster (a material that could previously only be mixed by hand with a trowel).
Fields of Application
Full-surface filling of drywall and concrete walls
Filling of primed raw ceilings
Finish filling of walls
Filling as preparation for high-quality painting
Surface quality Q 3 and Q 4
Advantages of the PFT Ritmo Powercoat
The practical arrangement of the sack opener and the low input funnel allows quick opening and complete emptying of the bagged material.
With the continuously adjustable drive, conveying output and mixing time can be adapted for each other. The flexible water injection allows the use of a variety of materials.
Simple, easy and fast cleaning of the machine module. Caked deposits on the rubber mixing area can be quickly and easily removed.
Safety-tested by the German Builder's Guild conforms to CE guidelines.
Can be used at all construction sites with 230 V alternating current.
Fits in every car sedan.
The machine consists of portable individual components which can be disassembled without tools and which allow convenient and easy transport with small and manageable sizes and low weights.